Welcome to ASIP Local 150
OPERATING ENGINEERS LOCAL 150 APPRENTICESHIP FUND COVID-19 VACCINATION POLICY
On September 3, 2021, Governor Pritzker promulgated Executive Order 2021-22. The Executive Order 2021-22 contains vaccination requirements for an Institution of Higher Education. The Executive Order 2021-22 defines an "Institution of Higher Education" to include any "business, technical or vocational school, or other educational institution offering degrees, programs or instruction beyond the secondary school level."
The Operating Engineers Local 150 Apprenticeship Fund ("Apprenticeship Program") hereby adopts the following policy regarding COVID-19 Vaccination Requirements to comply with Executive Order 2021-22.
Anyone who has not established that they are fully vaccinated against COVID-19 must be tested consistent with the requirements below.
Proof of COVID-19 vaccination may be met by providing one of the following:
A CDC COVID-19 vaccination record card or acceptable copy of the card.
Documentation from a health care provider or electronic health record; or
State immunization records.
Beginning September 27, 2021, in order to enter the premises of the Apprenticeship Program, all Apprenticeship Employee's, Trainee's, or Visitors who have not been fully vaccinated against COVID-19 shall undergo weekly testing for COVID-19.
Testing must be presented the first day of the week for which entry to the Apprenticeship Program premise is desired during the relevant period. The negative test must be a PCR test that was conducted within 72 hours of the presentation of the test.
Effective on October 19, 2021, all Apprenticeship Employee's, Trainee's, or Visitors who desire entry to the Apprenticeship Program premises must either complete the vaccinations set forth in this policy or qualify for an Exemption set forth in this policy. The testing procedures set forth in this policy shall not apply after October 19, 2021, unless the individual qualifies for an Exemption.
Individuals are exempt from the requirement to be fully vaccinated against COVID-19 if
Vaccination is medically contraindicated, including any individual who is entitled to an accommodation under the Americans with Disabilities Act or any other law applicable to a disability-related reasonable accommodation; or
Vaccination would require the individual to violate or forgo a sincerely held religious belief, practice, or observance.
Individuals who are exempt for the reason described above shall undergo weekly COVID-19 Testing.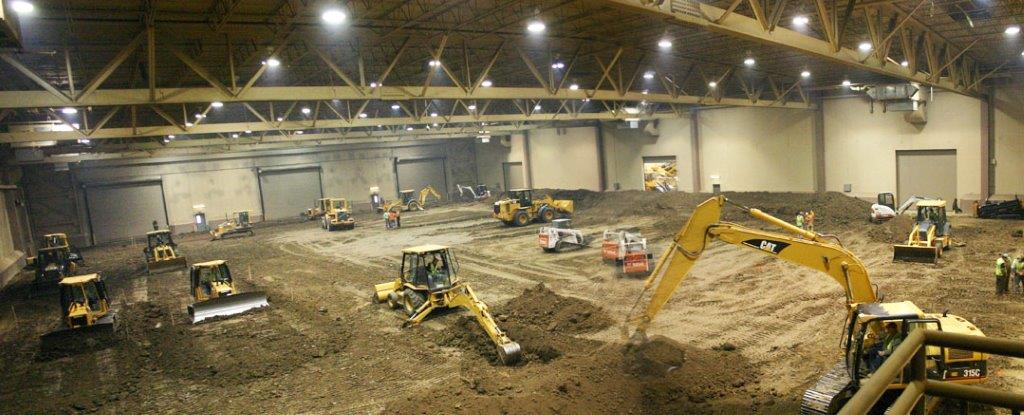 Local 150's training center is situated on 300-plus acres in Wilmington, IL. The center boasts 342,000 square feet of space housing an indoor training area, almost 200 pieces of heavy equipment, 30 classrooms, construction material testing lab, state of the art welding facility, equipment simulator lab, a 200-seat auditorium, and much more. Instructors are available to members six days a week, Monday through Saturday, except holidays.
Applications are currently open.
Local 150 offers four apprenticeship programs: Heavy Equipment Operator (OE), Heavy Equipment Repair Technician (HET), Geothermal/Well Driller (GWDO), and Construction Material Inspector (CBI). We are currently accepting or will soon be accepting applications for all programs. See our FAQ For more information.
Application Information

Available Programs
Date Range
Location(s)
Days / Times
+HET
+GWDO
+CBI
July 31, 2021
Thru
August 21, 2021
William E. Dugan
Training Center
19800 W South Arsenal Rd
Wilmington, IL
12PM - 3PM
Saturdays Only
+All Four Programs
September 11, 2021
6200 Joliet Rd. Countryside, IL
And
3511 78th Ave. W. Rock Island, IL
9AM - 1PM
+All Four Programs
September 18, 2021
2193 W. 84th Place, Merrillville, In
And
4477 LInden Rd. Rockford, IL
9AM - 1PM
+All Four Programs
September 1, 2021
thru
September 30, 2021
William E. Dugan
Training Center
19800 W South Arsenal Rd
Wilmington, IL
Tuesdays
Thursdays
Saturdays
10AM - 12PM
+HET
+GWDO
+CBI
Beginning
October 1, 2021
William E. Dugan Training Center
And
All Local 150 District Halls
(Halls closed On Saturdays)
10AM - 12PM
+OE
October 12, 2021
4477 Linden Road
Rockford, Illinois
1PM - 5PM
+OE
October 14, 2021
3511 78th Avenue West
Rock Island, Illinois
1PM - 5PM
+OE
October 19, 2021
28874 Route 120
Lakemoor, Illinois
1PM - 5PM
+OE
October 20, 2021
1050 N. I-55 E. Frontage Road
Joliet, Illinois
1PM - 5PM
+OE
October 21, 2021
1001 N. Michigan Street
Lakeville, Indiana
1PM - 5PM
+OE
October 26, 2021
740 E. Route 6
Utica, Illinois
1PM - 5PM
+OE
October 27, 2021
6200 Joliet Road
Countryside, Illinois
1PM - 5PM
+OE
October 28, 2021
2193 W. 84th Place
Merrillville, Indiana
1PM - 5PM
+OE
October 1, 2021
thru
October 30, 2021
William E. Dugan
Training Center
19800 W South Arsenal Rd
Wilmington, IL
Tuesdays
Thursdays
Saturdays
10AM - 12PM
| | | | |
| --- | --- | --- | --- |
| | | | |