Welcome to ASIP Local 150
The Training Site is currently open for training with restrictions due to the Covid Pandemic
The Training Center is back in operation, but due to the ongoing Pandemic, class sizes have been reduced and equipment training is by reservation only. Please adhere to the following rules and policies below when utilizing the Training Center:
Training will be limited to members with reservations only.
Members must reserve equipment by phone. Call (815) 722-3201 between 7:00am and 4:00pm Monday through Friday and 7:00am and 3:00pm on Saturdays.
When you arrive for training you will be verbally screened for Covid symptoms or potential contact with Covid Positive individuals and then screened for a fever.
All members are required to bring their own hard hats, safety vests, and masks.
Masks are to be worn while in the building at all times.
There will be no cafeteria service, and you must eat lunch in your vehicle in the parking lot.
If you are feeling sick in any way, please do not come to the Training Center.
We are excited to offer training and wish to continue while this pandemic remains a risk. Please be patient and understanding as we continue to adhere to masking and social distancing. Our staff is committed to providing the best experience and opportunity for you to train in a safe environment, and we look forward to welcoming you back.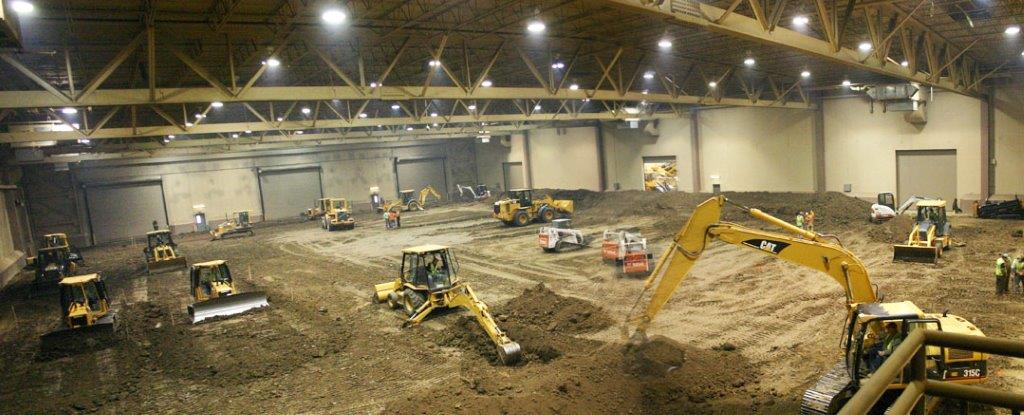 Local 150's training center is situated on 300-plus acres in Wilmington, IL. The center boasts 342,000 square feet of space housing an indoor training area, almost 200 pieces of heavy equipment, 30 classrooms, construction material testing lab, state of the art welding facility, equipment simulator lab, a 200-seat auditorium, and much more. Instructors are available to members six days a week, Monday through Saturday, except holidays.
Applications are currently open.
Local 150 offers four apprenticeship programs: Heavy Equipment Operator, Heavy Equipment Repair Technician, Geothermal/Well Driller, and Construction Material Inspector (Field Inspector). We are currently accepting or will soon be accepting applications for all programs. See our FAQ For more information.
Application Information

Available Programs
Date Range
Location(s)
Days / Times
+HET
+GWDO
+CBI
July 31, 2021
Thru
August 21, 2021
William E. Dugan
Training Center
19800 W. South Arsenal Rd, Wilmington
12PM - 3PM
Saturdays Only
+All Four Programs
September 11, 2021
6200 Joliet Rd. Countryside, IL
And
3511 78th Ave. W. Rock Island, IL
9AM - 1PM
+All Four Programs
September 18, 2021
2193 W. 84th Place, Merrillville, In
And
4477 LInden Rd. Rockford, IL
9AM - 1PM
+All Four Programs
September 1, 2021
thru
September 30, 2021
William E. Dugan
Training Center
19800 W. South Arsenal Rd, Wilmington
Tuesdays
Thursdays
Saturdays
10AM - 12PM
+HET
+GWDO
+CBI
Beginning
October 1, 2021
William E. Dugan Training Center
And
All Local 150 District Halls
(Halls closed On Saturdays)
10AM - 12PM