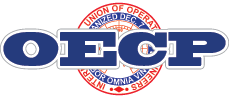 Operating Engineers Certification Program
Prerequisites
FAQ
OSHA Agreement
Crane Definitions
Listed below are the exams available at the ASIP Local 150 Training site in Wilmington, IL.
Expand each test to see exam dates.
* There are no exams scheduled at this time.
---
OECP Crane Class and Examinations
This is an entry level crane class designed for IUOE members to prepare or review to take the OECP crane operator certification or recertification examination. The class will be a combination of classroom and hands on instruction. The class is not a requirement for taking an OECP examinations, but there will be an opportunity to take written and/or practical examinations. There is no charge for the class. Airfare, room, and meals are provided. Location: The International Training & Education Center, Crosby, Texas. Crane classes:
- May 10 through 21, 2022
If interested, go to the
IUOE International Training & Education Center
page and click REGISTER FOR CLASSES to register. For further information, please contact the OECP office at (951)351-4001.